Bio Fuels
Jatropha oil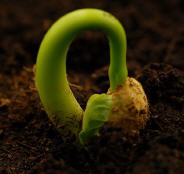 is vegetable oil produced from the seeds of the Jatropha curcas, a plant that can grow in marginal lands.
When jatropha seeds are crushed, the resulting jatropha oil can be processed to produce a high-quality biodiesel that can be used in a standard diesel car, while the residue (press cake) can also be processed and used as biomass feedstock to power electricity plants or used as fertilizer (it contains nitrogen, phosphorus and potassium).

The plant may yield more than four times as much fuel per hectare as soybean, and more than ten times that of maize (corn). A hectare of jatropha has been claimed to produce 1,892 litres of fuel. However, as it has not yet been domesticated or improved by plant breeders, yields are variable Researchers at Daimler Chrysler Research explored the use of jatropha oil for automotive use, concluding that although jatropha oil as fuel "has not yet reached optimal quality, ... it already fulfills the EU norm for biodiesel quality". Archer Daniels Midland Company, Bayer CropScience and Daimler AG have a joint project to develop jatropha as a biofuel. Three Mercedes cars powered by Jatropha diesel have already put some 30,000 kilometres behind them. The project is supported by DaimlerChrysler and by the German Association for Investment and Development (Deutschen Investitions- und Entwicklungsgesellschaft, DEG).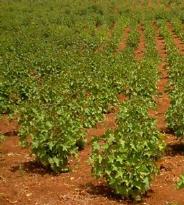 Goldman Sachs recently cited Jatropha curcas as one of the best candidates for future biodiesel production. However, despite its abundance and use as an oil and reclamation plant, none of the Jatropha species has been properly domesticated and, as a result, its productivity is variable, and the long-term impact of its large-scale use on soil quality and the environment is unknown.
Jatropha biodiesel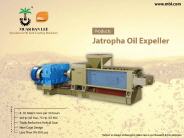 Currently the oil from Jatropha curcas seeds is used for making biodiesel fuel in Philippines and in Brazil, where it grows naturally and in plantations in the Southeast, and the North/Northeast Brazil. Likewise, jatropha oil is being promoted as an easily grown biofuel crop in hundreds of projects throughout India and other developing countries. The railway line between Mumbai and Delhi is planted with Jatropha and the train itself runs on 15-20% biodiesel. In Africa, cultivation of Jatropha is being promoted and it is grown successfully in countries such as Mali. In the Gran Chaco of Paraguay, where also a native variety (Jatropha matacensis) grows, studies have shown suitability of Jatropha cultivation and agro producers are starting to consider planting in the region.

Estimates of Jatropha seed yield vary widely, due to a lack of research data, the genetic diversity of the crop, the range of environments in which it is grown, and Jatropha's perennial life cycle. Seed yields under cultivation can range from 1,500 to 2,000 kilograms per hectare, corresponding to extractable oil yields of 540 to 680 litres per hectare (58 to 73 US gallons per acre). Time Magazine recently cited the potential for as much as 1,600 gallons of diesel fuel per acre per year.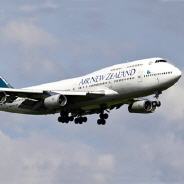 On Dec. 30, 2008 Air New Zealand successfully completed a test flight from Auckland using a 50/50 mixture of jatropha oil -derived biofuel and Jet A1 in one of the four Rolls-Royce RB211 engines of a 747 jumbo jet. Air New Zealand announced plans to use the new fuel for 10% of its needs by 2013. At the time of this test, jatropha was significantly cheaper than crude oil, costing an estimated $43 a barrel or about one-third of the June 4, 2008 closing price of $122.30 for a barrel of crude oil. However, the falling cost of oil has since changed the dynamic, with crude oil trading in the $34–$48 range per barrel between December 2008, and February 2009.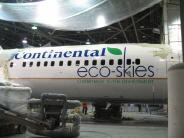 On January 7, 2009 Continental Airlines successfully completed a test flight from Houston, Texas using a 50/50 mixture of algae/jatropha oil-derived biofuel and Jet A in one of the two CFM56 engines of a Boeing 737-800 Next Generation jet. The two-hour test flight could mark another promising step for the airline industry to find cheaper and more environmentally friendly alternatives to fossil fuel.
(Source Wikipedia)
---
copyright SKYFUND.COM - 2009-2014 - SKYFUND reg. Trademark (Pat. No. AT 257857 09-10)